2017 CCBS Annual Conference 23/24 February 2017

The Centre for Cross Border Studies' 2017 Annual Conference will take place at the Armagh City Hotel on Thursday 23 & Friday 24 February 2017. With an overall theme of Building and maintaining relationships: within, across and beyond these islands after the Referendum, the conference will be opened on Thursday afternoon by A Senior UK Government Member, and Irish Minister for Foreign Affairs, Charles Flanagan.

Keynote speakers include Michael Russell MSP, who will address the topic of Securing the Interests of the Devolved Regions in the 'Brexit' negotiations. His talk will be followed with a panel discussion involving political representatives from Northern Ireland, Wales and the UK Government. A number of other panel discussions throughout the conference will involve academics, public officials and community activists from Britain and the island of Ireland. Dr Duncan Morrow, Director of Community Engagement, Ulster University will speak about "Moving forward after the Referendum".

For further information please click on the link below:

CCBS Conference 2017

CCBS RECRUITMENT

Research Officer
The person appointed will be based in Armagh, starting in March/April 2017. Among the essential competencies required for this post, he or she will have a good Honours degree in a relevant discipline (a postgraduate qualification is desirable); demonstrable experience in undertaking research projects based upon qualitative and/or quantitative research methods, including publications; experience of policy analysis; experience of editing and bringing research reports/policy papers to publication; and a high level of IT and organisational skills.

The person will be primarily contributing to the Centre's work on Brexit, and to the production, promotion and dissemination of relevant research that may be carried out by her/himself and/or other staff, as well as undertaking research or dissemination activities related to other (new or existing) areas of the Centre's work.

Salary: GBP£26,000-29,000pa, depending on experience and qualifications. This is a one-year contract initially.

Closing date for applications is 2.00pm on Friday 3 February 2017.

INTERVIEWS will be held in Armagh on Monday 13 February 2017.

For further information click here

Administrative Assistant (Communications and Events)
The person appointed will be based in Armagh, possibly starting in March 2017.

He / she will hold three A 'Levels or a level three NVQ/BTEC qualification in a relevant discipline; at least three years' experience in an office environment; a high level of IT and organisational skills; the ability to be a self-starter and to work effectively as part of a small team.

The person will help promote the work of the Centre by improving the Centre's online presence and will assist with the organisation of the Centre's seminars and meetings. Experience of updating websites, online PR activities and event coordination is particularly relevant.

Salary: Stg £18,000 per annum. This is a one-year contract subject to further funding.

Closing date for applications: Friday 3rd February at 12 noon

INTERVIEWS will be held in Armagh on: 14th February 2017

For further information click here

CCBS meets with British-Irish Parliamentary Assembly
CCBS Director, Ruth Taillon, and Deputy Director, Anthony Soares, met with members of the British-Irish Parliamentary Assembly to discuss the implications of Brexit for Northern Ireland and Ireland. Made up of elected representatives from the Houses of Parliament in Westminster, the Houses of the Oireachtas, the Scottish Parliament, the Welsh Assembly and the Northern Ireland Assembly, members of the British-Irish Parliamentary Assembly were in Belfast on the 23rd of January to seek views from a number of organisations on the potential impacts of the UK's withdrawal from the EU. CCBS commented on a range of issues, including the economic consequences for the island of Ireland in light of the UK Prime Minister's recent statements suggesting not only relinquishing current access to the Single Market, but also withdrawal from the Customs Union, which will – in CCBS's view – inevitably mean the need to introduce customs controls. Whilst noting the reliance of sectors of the economy in Northern Ireland on migrant workers, Ruth and Anthony also highlighted the need for the negotiations that will follow the triggering of Article 50 to safeguard the freedom of movement within the Common Travel Area, as well as of the need for continued reciprocation of rights between UK/Northern Ireland and Irish citizens. They also stressed the need for cross-border cooperation (North-South and East-West) to be supported in the post-Brexit context, whether through the UK Government maintaining access to European Territorial Cooperation programmes by contributing to the relevant EU budgets, or through the introduction of alternative funding structures financed by the UK and Irish Governments.

All-Island Civic Dialogue
CCBS Director, Ruth Taillon attended the Department of Jobs, Enterprise and Innovation's Stakeholder Engagement Event in Carrick-on-Shannon on 30 January. Attended by over 150 people from across the island, the event was opened by Minister for Jobs, Enterprise and Innovation, Mary Mitchell O'Connor, TD. Dr Orlaigh Quinn, the Department's Secretary General presented an outline of the Irish Government's response to Brexit and its impacts on the Department's policy areas. These presentations were followed by two panels considering the impacts on the economy, from the perspectives of agencies and employers and employees.
The Department's presentation outlined the issues that will be addressed in the Exit negotiations after Article 50 is notified. These are:
What the UK will pay
Treatment of citizens
EU institutions in the UK
Geographical issues (including N. Ireland)
Negotiations on future relations between the UK and the EU will follow these Exit negotiations.
A Government Brexit Update Service email alert is now available. This service outlines the latest Irish Government developments on the UK's decision to leave the EU. You can sign up to this free service at http://eepurl.com/cxVh-v




UK EU Referendum
If you would like to suggest an event, report or article for inclusion in the CCBS Brexit section please get in touch here

.................................................................................................................................................................

&olarships
B
& Scholarships
The aim of the North/South Scholarship scheme is to encourage outstanding students from the Republic of Ireland and Northern Ireland to cross the border to undertake postgraduate study and experience life in the other Irish jurisdiction. Each year, Universities Ireland offers four scholarships, each worth €15,000.


In 2016, four bursaries of €6,500 were awarded to students undertaking postgraduate study on a topic relating to the 1912-1923 period in Ireland, the decade of the First World War and the division of the island into the states of Ireland (Irish Free State) and Northern Ireland.
Strict eligibility rules apply – please see the Guidance for Applicants.
For further information click here

Loneliness & Ageing: a public health issue
Chronic loneliness can have a negative impact on your health according to experts speaking at a recent seminar on loneliness and older people. The all-island event 'Loneliness & Ageing: a public health issue' was co-hosted by IPH and Ulster University Bamford Centre for Mental Health and Wellbeing. Loneliness can affect people of any age with chronic loneliness affecting about 10% of older people. Keynote speaker Professor Brian Lawlor, Trinity College Dublin highlighted the need for loneliness to be recognised as a key public health feature. Professor Vanessa Burholt, Swansea University added that people with lots of friends can still feel lonely and those who live alone may not. Other speakers included Kellie Payne, UK Campaigning to End Loneliness, Sean Moynihan, ALONE and Siobhan Sweeyney, Public Health Agency. Access presentations, photos and audio

Why Good Work Matters: The Role of Good Quality Work in Reducing Health Inequalities
In November the UK and Ireland Health Equity Collaborative met in Dublin to look at inequality of access to work and inequality of access to good quality work. The Collaborative is a partnership between the UCL Institute of Health Equity and public health and Government bodies in the UK and Ireland of which IPH is a member. It works to support and sustain action on the social determinants of health, to improve population health and reduce health inequalities. The event highlighted good evidence and good practice to support people into work creating healthy workplaces, and looks to the future for opportunities and barriers to good quality work. Professor Sir Michael Marmot gave a brief overview of the collaborative.

.......................................................................................................................................................................
EU NEWS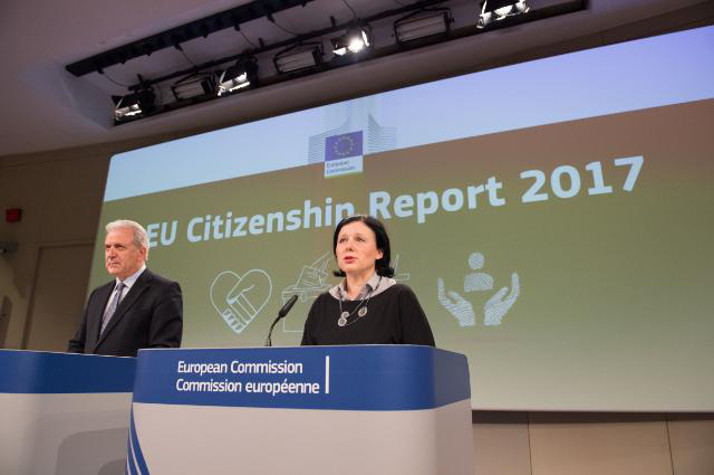 EU Citizenship Report: Promoting EU citizens' rights and freedoms

The European Commission has published its third EU Citizenship Report focusing on the main initiatives taken to promote and strengthen European citizenship. Any person who holds the nationality of an EU Member State is also an EU citizen. EU citizenship does not replace national citizenship, but complements it. It is a valuable status which gives citizens many freedoms such as free movement, consular protection, and the right to vote and stand as candidates in municipal and European Parliament elections wherever they live in the European Union. One of the main findings of the Report is that Europeans are more than ever aware of their status as citizens of the Union and the proportion of Europeans wanting to know more about their rights continues to increase. A recent Eurobarometer has revealed that 78% of Irish people feel they are citizens of the EU, joint 6th highest overall.

Read more... Debt recovery made faster, cheaper and more efficient

New rules entered into force this week to help businesses, particularly small and medium-sized enterprises (SMEs), to recover debt from debtors in other EU countries. The European Account Preservation Order (EAPO) gives companies a simple and cost-effective way to block funds that are owed. Up to now, this was a costly legal process often too expensive, particularly for SMEs. The new procedure means courts in the country where the debtor company is based will have a maximum of 10 days to issue an EAPO. The debtors will not be informed in advance of the block on their account. Every year €600 million is lost due to long and costly legal procedures undertaken by companies to recover money they are owed outside their home country.

Read more... Registration for paid traineeships in the European Commission now open

Registration is now open for the next series of five-month traineeships at the European Commission which will run from 1 October 2017 to 28 February 2018. Applicants must have completed at least 3-years of study with a degree in order to apply. About 1,300 people are awarded traineeship in the European Commission every year. It's a great way to get hands on experience of working in an international and multicultural environment. Trainees at the European Commission also receive a monthly grant of approximately €1,120 as well as reimbursement of travel expenses. The deadline to apply is 31 January (11 am Irish time).

Read more... No more EU roaming charges from 15 June 2017

Statement by Vice-President Ansip and Commissioner Oettinger: Announcing the effective end of roaming charges, Vice-President Ansip and Commissioner Oettinger said: "Getting rid of roaming charges is one of the best achievements of the EU in the last few years, and a cornerstone for building the Digital Single Market. For more than a decade, the Commission has been working to reduce the huge surcharges that telecoms operators imposed on their customers each time they crossed a border while using their mobile device on holiday, at the week-end or during business trips (…) We are now at the final hurdle: the complete abolition of roaming charges for European travellers in the EU. This will enter into effect as of 15 June 2017. Those of us who travel do so on average for 12 days per year. But the Commission goes much further by abolishing roaming charges for at least 90 days per year, much more than the average time that a European is roaming with their phone."

EU Prize for Women Innovators

The European Commission has launched the EU Prize for Women Innovators 2017 competition, which awards four female entrepreneurs who have successfully brought an innovation to market. This year's edition is open to women of any nationality living in an EU Member State that have founded or co-founded a company with a turnover of at least €100,000. The 2017 edition will also feature a Rising Innovator award worth €20,000 for a female entrepreneur under 35 years old. The winners of the 1st, 2nd and 3rd prize will receive €100,000, €50,000 and €30,000 respectively. Last year, Dr Sarah Bourke, CEO and co-founder of Skytek Ltd, won the third prize in the competition. Skytek is a successful, global software development company serving the world's most complex and demanding industries.

Read more... Jean Lambert MEP

has published a factsheet on the legal rights of EU nationals currently living in the UK. Written by Colin Yeo, barrister at Garden Court Chambers, it answers several of the most commonly-asked questions in these uncertain times following the vote to leave the European Union ('Brexit').

To view factsheet click

here

.............................................................................................................................................................


OTHER NEWS

Cultural Policy Observatory Ireland: All Island Research Network
For further information, Cultural Policy Observatory Ireland: all island research network contact:
Republic of Ireland:
Kerry McCall, Director of Academic Affairs, Uversity, Dublin. E: kmccall@uversity.org.
Northern Ireland:
Dr. Victoria Durrer, Lecturer in Arts Management and Cultural Policy, Queen's University Belfast, N. Ireland. E: v.durrer@qub.ac.uk.