Autumn 2022
Welcome to our autumn newsletter - giving you news and updates

Alliance gives a presentation to FAO
ASOA is a founder member of ARC, the Antibiotic Resistance Coalition - which works in six continents in the health, agriculture, consumer and development sectors. ARC hosted a teleconsultation with the Food and Agriculture Organization (FAO) on their Reduce the Need for Antimicrobials on Farms Initiative (RENOFAM) and other work, which was also attended by representatives of the World Health Organization and the World Organization for Animal Health.
FAO speakers introduced the RENOFAM initiative, and stressed the need to identify strategies to address the reasons for on farm use without compromising productivity or health in the agri-food systems.
The FAO also said that they hoped their 10 year plan would:
see at least 100 countries implementing

National Action Plans

in the food and agriculture sectors

achieve a 30-50% reduction in the total amount of population weighted antimicrobials used in food and agriculture sectors

reach zero non-therapeutic agricultural use of critically important antimicrobials for human health

and train more than 50% of animal and plant health workers under the campaign
This was followed by a series of presentations outlining the strategic actions undertaken by several ARC member organisations in the arena of AMR. Cóilín Nunan, Alliance to Save our Antibiotics, emphasised the need to reduce the use, not just the need to use, antimicrobials. Drawing on the EPHA report he authored, Cóilín spoke about key actions which need to be taken to implement legislative tools, such as the EU regulation 2019/6, which bans the routine use of antibiotics, preventative group treatments, and recommended that antibiotics should not be used "to compensate for poor hygiene, inadequate animal husbandry or lack of care, or to compensate for poor farm management."

Further details on the other speakers can be found in the ARC newsletter.

Response received to our letter to DEFRA
In June 2002, the Alliance wrote to George Eustice, Secretary of State for EFRA expressing concern about the Government's lack of progress towards implementing new Veterinary Medicines Regulations which would end all forms of routine farm antibiotic use, including preventative group treatments, and its possible recent weakening of its commitment to do so.
In August we received a reply, from Lord Benyon, on behalf of Defra. It stated that the government remained opposed to routine preventative antibiotic use and that antibiotics should not be used to compensate for poor hygiene or inadequate husbandry,
Lord Benyon said that the government did still intend to introduce new legislation aimed at reducing the unnecessary use of antibiotic in livestock and would put forward new proposals to restrict preventative use. However, he made no commitment to outlaw purely preventative mass medication, as the EU did on 28 January, despite Eustice having previously said in Parliament that the government would implement this provision.
He said that there would be a consultation on the new regulations this Autumn and that a range of stakeholders views would be taken into account. This consultation has been repeatedly delayed over a period of several years, so it will be important for all those who wish to see more responsible antibiotic use in farming to make their views known once it happens.

We will provide further updates when available.
More political news
In August, we joined forces with 40 other diverse organisations including the British Safety Council, Chartered Trading Standards Institute, the RSPB, the Wildlife Trusts and Breast Cancer UK, in signing a letter to the two remaining candidates for the role of Prime Minister, Rt. Hon. Rishi Sunak MP & Rt. Hon. Liz Truss MP.

We expressed concern that eradication of the UK's green and social regulations that both Tory leadership candidates had promised would risk irreparable damage to the natural environment, to people's health and workers' rights. The Guardian covered the story.
Better Chicken Commitment
The Humane League recently issued a new report on The State of the Chicken Industry, which was covered by Poultry World in an article entitled Pressure on retailers to sign up to Better Chicken Commitment.
Studies show that consumers are increasingly concerned about where their food comes from. In 2015, a survey by Mintel found that 74% of UK consumers thought sourcing meat from animals that are well looked after is among the top criteria that makes a food company ethical and 52% of consumers say they would stop buying products from a company if they found out it was acting unethically.

The Better Chicken Commitment is a set of standards for broiler welfare aimed at moving the food industry towards higher welfare practices and this is also significant for reducing antibiotic use.

The modern chicken has been selectively bred over many decades, for fast growth and large breast muscles to satisfy a preference in the UK and across Europe for white, rather than darker chicken meat. Chickens now grow so big, so quickly, their bodies often can't keep up. This can result in the chickens suffering from leg pain, lameness and premature death from heart disease due to the strain on their organs. In addition, many chickens have so little space that they live amongst their own waste. This ongoing contact with the ammonia-laden litter can cause foot pad dermatitis (lesions on the bottom of their feet), breast blisters, and hock burns (ammonia burns through the skin).

The Better Chicken Commitment has several requirements. Amongst those are that suppliers:
Implement a maximum stocking density of 30 kg/m2 or less. This compares to EU regulations that allow up to 42kg/m2 if certain derogations are followed, the UK 39kg/m2 with the industry standard being 38 kg/m2 and organically reared chicken standard of 21 kg/m2
Adopt breeds that demonstrate higher welfare outcomes
Whilst more than 330 companies in the UK and EU have committed to the scheme – a rise of 38% from 2021 – just 2 of the UK's supermarkets (Waitrose and Marks and Spencer) have signed up. At present, a sector breakdown shows 100% of leading food service and meal kit companies, 80% of manufacturers and 70% of restaurants have aligned with Better Chicken Commitment commitments, but only 20% of retailers and no hotels have signed up. Groups behind the scheme argue that the UK is lagging behind other European countries with both French and Dutch retailers saying all their birds will be Better Chicken Commitment compliant by 2026, along with progress in Norway, Spain and Poland.
With the UK retail sector accounting for 65% of the country's chicken supply, the new report argues that if the outstanding supermarkets signed up to the Better Chicken Commitment, then the percentage of UK chicken supply committed to the policy would leap from 28% to 89%. You can see more information on the companies who have signed up here.

The relationship to antibiotic use
In his research paper Ending routine farm antibiotic use in Europe, which we reported on earlier in the year, Cóilín Nunan of the Alliance, highlights the strong links between lower antibiotic use and better chicken and pig welfare. In support of the Better Chicken Commitment standards, Cóilín includes clear evidence that improving chicken welfare can significantly reduce antibiotic use. For example:
in 2020 antibiotic use per animal was over six times higher for fast-growing birds compared to slower growing breeds and
that higher stocking densities have been associated with increased preventative use of antibiotics due to the expectation of increased disease risk. A 2010 EFSA study found that the top-ranking "environmental" hazard (i.e. other than poor genetics) for broiler welfare is stocking density.

Making sure chickens don't grow too fast and have better living conditions dramatically reduces the need for antibiotics and, as a result fewer chickens become infected with harmful bacteria. This is a good illustration of the interconnection between non human and human animal health.
New team member

Jane Tredgett has joined the Alliance as Campaign Assistant. She is providing
maternity cover for Kat Button for the next
12 m
onth
s and will be a huge asset to the team, gi
ven her previous experience.
This includes a degree in biological science, 10 years as a trustee on the national RSPCA board (including a period as vice chair), 9 years on the Freedom Food Board and, most recently, setting up the not for profit organisation Humane Being, which aims to scrap factory farming through its legal challenge, currently lodged at the European Court of Human Rights.
Interview with the experts - Dr. Muhammad Asaduzzaman

We recently had the pleasure of interviewing Dr. Muhammad Asaduzzaman, Research Fellow, Department of Community Medicine and Global Health, Institute of Health and Society, Faculty of Medicine, University of Oslo (UiO), Norway. Dr. Asaduzzaman is a member of One Health Research Group and Interdisciplinary Forum for Research on Antimicrobial resistance (INFRA) at UiO.
For more information and to follow Dr. Asaduzzaman's work:
Projects coming up
There is an increasing global interest in the environmental issues surrounding on farm antibiotic use. This is an under researched area and it is difficult to get data. Working with other organisations, we have been conducting water and soil sampling near UK intensive farm units. That data is being collated and we will be reporting on the findings in World Antimicrobial Awareness Week (18th - 24th November).
Further forward, we will be reporting on contract catering companies and repeating our analysis of supermarket antibiotic use policies. Watch this space!
Sustain event - 2pm, 12th October in London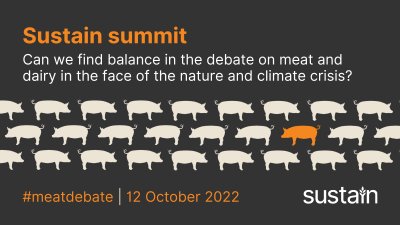 The summit will consider meat and dairy production and consumption in the context of the climate and nature emergency, where inspiring work and opportunities exist, and the assumptions and underlying values about meat which have shaped our policy to date.
From civil society to retailers, farmers to food writers, we will bring stakeholders together to explore the science and our many assumptions about meat and dairy, and where and how we can find common ground on this urgent issue.
We are thrilled to announce the following speakers on the day, with more to follow:
Professor Tim Benton, Professor of Population Ecology, University of Leeds & Research Director, Chatham House
Thomasina Miers OBE, Cook, Writer and co-founder of Wahaca Restaurants
Cyrus Todiwala OBE, Chef, restauranter and author
Dr Rupy Aulja, Founder, The Doctor's Kitchen
Baroness Natalie Bennett, journalist and Peer in the House of Lords
Nicola Renison, Cumbrian Farmer
Tom Martin, Cambridgeshire Farmer
Henry Mance, Chief Features Writer, Financial Times
Jyoti Fernandes, Campaigns & Policy Coordinator, Landworkers' Alliance
Rob Percival, Head of Food Policy, Soil Association & Author of the 'Meat Paradox'
Hibba Mazhary, University of Oxford
David Burrows, Associate Editor, Food Service Footprint, and Environmental journalist for Farmer's Guardian, The Grocer and Just Food
Simon Billing, Executive Director, Eating Better
Peter Greig, Founder, Piper's Farm
Gavin Fletcher, Leicestershire County Council
For more information and to book - follow this link
--------------------
One Health News
The Quadripartite organizations - the Food and Agriculture Organization of the United Nations (FAO), the United Nations Environment Programme (UNEP), the World Health Organization (WHO), and the World Organisation for Animal Health (WOAH, founded as OIE) have announced the theme of World Antimicrobial Awareness Week (WAAW) 2022 as: 'Preventing antimicrobial resistance together'.
--------------------

EFSA has published a scientific opinion on the welfare of pigs on farm, the first of several opinions on animal welfare to be delivered in the coming year in the context of the Farm to Fork (F2F) strategy. It provides detailed suggestions to improve the welfare of all categories of farmed pigs kept in the most relevant husbandry systems used in the European Union.
--------------------


FAO launch a report One Health in Agrifood System Transformation Fund, The Programme Fund aims to support 20 countries and the brochure is designed to act as an advocacy tool for policy-makers, decision-makers, and resource partners, encouraging them to become partners in this important work and emphasising the added value of the One Health approach for much-needed agrifood systems transformation.
Animal Welfare Labelling in Germany
The Minister of Agriculture introduced the animal husbandry labelling system. The aim is for consumers to be able to see at a glance how an animal was kept on farms in Germany. To this end, the Federal Ministry of Food and Agriculture (BMEL) is working on a mandatory and transparent animal husbandry labelling system for foods of animal origin originating from Germany. animal welfare labelling in Germany.
The first step will be to label pork: fresh, chilled, frozen / prepacked and not prepacked / food retail and wholesale businesses, service counters, specialty shops, and online retail.

It is then planned to swiftly expand the labelling to include other animal species, the restaurant and catering sector and processed products.

The labelling will be based on the conditions under which animals are kept during the so-called 'productive period of life'; in the case of meat, this is the fattening period.

The label will distinguish between five different types of husbandry: indoor; indoor + space; indoor with fresh air; outdoor runs/free-range; and organic.
The team at the Alliance to Save Our Antibiotics
Become an Alliance member
Membership of the Alliance to Save Our Antibiotics is free.
To join the Alliance head to our
organisation sign-up page