Hello Club New Flight member,


This week's edition features the latest Free Rides, new Hawker 800XP aircraft available for charter, and special One-Way Flights and Pricing - around half of normal charter quotes. We hope you're having a great week. If there's any help or information we can provide please let us know.

---
FREE RIDES
(Yes, free flights available, no charge)
The newest
Club New Flight
benefit-
FREE RIDES
are made available only to you the
Club New Flight
subscriber and will arrive in your inbox. N
ot available to the public or posted on any website, we send you several to many upcoming free private flights available nationwide.
April 20, Asheville NC - Pittsburgh PA, Learjet 60 midsize jet

April 27, Palm Springs CA - Salt Lake City UT, Citation V light jet
April 30, Santa Ana CA - Pocatello ID, Citation V light jet
May 27, Los Angeles CA - Santa Barbara CA, Beechjet 400A light jet
Free Rides are whole private aircraft, not seats or shared flights. Free Rides are available first-come, first-served. No charges, no fees. Email here to inquire or book.
Subject to specific date, time and airports. Free Rides are private charters and operated under FAA Part-135 regulations governing private charter operations, by DOT-registered and FAA-certificated air carriers who maintain full operational control at all times. Subject to change or cancellation without notice, not guaranteed flights.
---
FEATURED ONE-WAYS, EMPTY LEGS & CHARTER SPECIALS

● April 22, New York - Arizona, Legacy 600 large jet, starting $27,000
● April 23-25, Palm Beach FL - New York area, Gulfstream G200 super mid jet, starting $14,500
● April 24-28, Midwest US - Miami FL, Learjet 55, midsize jet, starting $12,900
● April 30, Santa Ana CA - Jackson Hole WY, Citation Ultra light jet, only $5,000
● May 1-4, Pennsylvania - Bahamas or So. Florida, Beechjet 400A light jet, starting 7,800
● May 2, Ft. Lauderdale FL - Texas, Learjet 45 midsize jet, starting $10,500
● May 8-9, Idaho - Palm Springs CA, Citation CJ3 light jet, starting $6,400
● May 20-22, Florida - California, Falcon 50 large jet, starting $25,500

85 more featured one-ways, empty legs, specials and details are listed here. Almost any routing is available, take advantage of our industry-wide reach.
---
TWO POPULAR HAWKER 800XP MIDSIZE JETS NEW TO CHARTER AVAILABILITY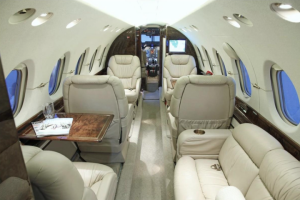 The Hawker 800XP is one of the most desired charter jet types in the midsize category. It's range, speed and large comfortable cabin make it among the most popular of all charter aircraft. The cabin features a height of 6 feet (1.8 meters), stand-up center aisle, a walk-in rear lavatory and a standard seating configuration of 8 real seats; 5 captains chairs plus a 3-place couch.

Announcing two new Hawker 800XP midsize jets to charter availability in the Midwest and Southwest, based Dallas, TX and Chicago, IL. The Dallas-based year-of-make 2004 Hawker 800XP features cabin entertainment audio and video systems, and a partial galley with microwave oven. The Chicago-based 2000 Hawker 800XP features free Wi-Fi internet access in flight.

---
Contact your charter manager at (800) 732-1653 or click to email: Nanette Poorman Michelle Murphy Blake Smith Aeriel Taka Kelan Poorman Mark Baroni Rick Colson

Wishing you the best, your team is standing by!



Click To See 12 Years of Aviation Leadership 2004-2016

About New Flight Charters
Celebrating its 13th anniversary in 2017, rated A+ by the BBB, and named to the Inc. 500 four consecutive years, New Flight Charters has arranged over 12,000 private domestic and international flights with top-rated aircraft, its Best Price Guarantee and a perfect safety history. The company features an acclaimed seven-member management team with a cumulative 49 years in private jet charter, 52 years FAA-certified experience, 114 years executive management experience, 23,200 hours pilot-in-command, and includes private and commercial pilots, former U.S. Air Force officer and retired law enforcement. Client and industry reviews are available on the New Flight Charters website. The company serves a wide variety of clientele including Fortune 500 companies, government heads of state, presidential campaigns, entertainment icons, private families and entrepreneurs.