Oceania

eNews




May 2014
Dear Colleagues,

As a member of the Regional Executive Committee (RexCom) I am pleased to introduce the May edition.

I've been involved with ICLEI at a global and local level since I was first elected to the City of Melbourne in 2008. I'm now serving my second term at Council, currently as Chair of the Transport Committee and Deputy Chair of the Environment Committee. My background as a scientist and environmental consultant with 20 years' experience in the sustainability sector encouraged me to combine my professional career with my commitment to local sustainability.

Since 1998 ICLEI has played an important part in our City's sustainability journey. I believe this long-term partnership has provided significant mutual benefit in supporting our respective agendas locally and globally.

Melbourne is today, a 24-hour city and increasingly a walking and cycling city. Melbourne's transport strategy sets key directions and targets for a growing city, given that around 800,000 people move through the city every day and this is expected to increase to more than one million by 2030.

The City of Melbourne's transport strategy acknowledges this expected growth and focuses on improving how people can get into and around the city using sustainable modes. Upgrades to the cycling network and options for city freight delivery are an important part of the strategy, as is improving our city's walkability, with our new Walking Plan to be delivered later this year.

I trust that you will find this edition of eNews informative and we look forward to your feedback.

Cr Cathy Oke
Melbourne City Council
---




Stop Press:

Federal Minister for Environment, The Hon. Greg Hunt MP, will speak at the ICLEI Briefing Breakfast @ ALGA National General Assembly on

Tuesday 17 June

.

Register now!
ICLEI Oceania Briefing Breakfast @ ALGA National General Assembly
Tuesday 17 June
7.15 am – 8.30 am
National Convention Centre, Canberra

Keynote:
Federal Minister for the Environment, The Hon. Greg Hunt

Speakers:
Mayor Dr Felicity-ann Lewis, President ALGA
Mayor Troy Pickard, Vice President, ALGA & ICLEI Global Biodiversity Portfolio Holder
Professor Barbara Norman, Foundation Chair, Urban and Regional Planning, University of Canberra

MC:
Martin Brennan, Regional Director, ICLEI Oceania

ICLEI Members $50.00 plus GST

Non-members $60.00 plus GST
Community food gardens...food for thought...food for health...food with friends
Community food gardens are local places where people can come and grow delicious healthy fresh fruit and vegetables together in a supportive and creative environment, socialise and get to know others in their neighbourhood.

The City of Stirling has a Community Food Garden Grants Program Policy, which recognises the value of Community Food Garden projects in fostering the social, environmental and economic development of local communities.

Funded community food garden projects have been situated on both Council land and incorporated not-for-profit land. These sites are then managed by volunteer community members with the support of the Council.

Read more
Perth Water Forum
The "Urban Water and Landscape Regeneration" workshop in March provided over 60 Perth Local Government staff and stakeholders with an interesting and informative program.

It addressed new water management issues and innovative landscape planning tools, as well as an opportunity to network with each other and specialists.

Read more


Permeable Paving Tree Guards
Shellharbour City Council had problems finding an effective material for use around the base of trees that protects soil and surface roots, while also allowing for easy watering.

Having investigated different materials such as concrete, asphalt, bark, mulch, plastic bases and steel bases they finally settled on a material made of an aggregate mixed with a setting agent that sets firm while allowing water to pass through into the soil below.

This material, in conjunction with steel tree guards around trees on footpaths, provide a vandal resistant, low risk environment for newly planted trees, which allows trees to be easily irrigated and improves survival rates.

Read more

Cars AND Bikes!
Adelaide City Council is working hard to create a City where people of all levels of cycling ability feel that they can cycle safely, and to make cycling the most convenient form of transport for local trips.

The way in which commuters, shoppers and visitors access the City is an important factor in the prosperity of our City. Transportation and movement policy has recently been extensively explored by Adelaide City Council following the release of the State Government's 'The 30-Year Plan for Greater Adelaide'.

Read more



Water Benchmarks set for Commercial Buildings in the City of Perth
Recent City of Perth investigations into water consumption in commercial offices sets water benchmarks for the industry.

See the report Water Efficiency - Perth Commercial Office Buildings, which outlines a typical water balance for buildings and recommendations for saving water.

Read more


Promoting Cycling in our Cities
UN-Habitat and the European Cyclists' Federation have signed a Memorandum of Understanding on 'Promoting Cycling as a Sustainable Means of Transportation'.

Joan Clos, the Executive Director of UN-Habitat, and Manfred Neun, President of the European Cyclists' Federation signed the agreement.

Read more


Growing Green Guide
Buildings will be turning all shades of green with the launch of the Australian State of Victoria's first Growing Green Guide. The guide gives building owners, planners, designers, developers and home-owners information so they can integrate green infrastructure on their buildings and help manage the impact of a changing climate on the way we live in the city.

Read more


New Global Collaboration for Urban Resilience Announced
Nine of the world's largest UN and non-UN organisations have joined forces to form the 'Medellin Collaboration on Urban Resilience' to help build urban resilience and to strengthen the social, economic and environmental fabric of the world's urban spaces.

The group, collectively, works in over 2,000 cities with more than US $2 billion of funding committed annually toward advancing resilient and sustainable urban growth and development.

Read more


Who Believes in Global Warming?
Data from Essential Poll indicated that the older you are the less likely you are to believe that human activity is leading to global warming.

But perhaps most extraordinary is that no matter what the age group,the percentage that believe human-induced global warming isn't occurring is noticeably out of kilter with what the climate science research literature suggests.

Read more


Signs of a Rebound in Renewables
Investment in clean energy worldwide rallied near 10 per cent in the first quarter of 2014 compared to the same period a year earlier, reaching $50.8 billion. The first-quarter figure owed much to a 42 per cent jump in investment in small-scale solar, as households and businesses in countries such as Japan and the US took advantage of the big falls in the cost of photovoltaic systems over recent years.

Read more


Earthquakes, Hurricanes, Cyclones and Tsunamis: the World's 10 Riskiest Cities
What are the world's riskiest cities when it comes to natural disasters?

A reinsurance company set out to assess 616 cities around the world for their risk of earthquakes, hurricanes, cyclones, storm surge, river flooding and tsunamis.

Read more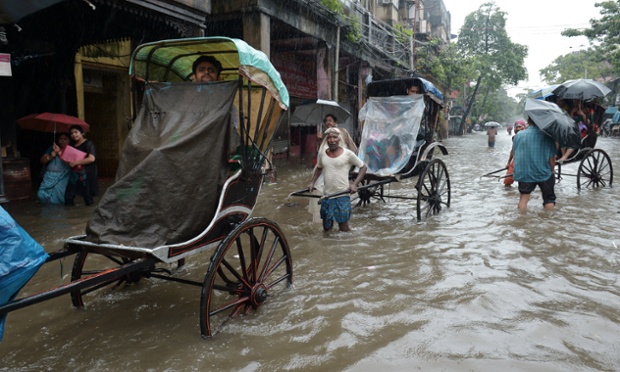 Scientists: Wake Up, America! US Climate Inaction Imperils Earth
Once and for all, prominent U.S. scientists are saying, Americans need to wake up, get a grip, and face the reality that not only will human-caused climate change continue to noticeably impact local weather patterns from time to time but that it could also lead to "abrupt, unpredictable and potentially irreversible" changes that will dramatically alter the lives of billions of people and the life systems supported by Earth.

Read more

City-Business Collaboration is Critical to Sustainable Development
According to research undertaken by ICLEI and the World Business Council for Sustainable Development (WBCSD), which brought responses from 59 cities in Asia, Europe and the Americas, uncovered that it is crucial that cites and businesses to develop new models for strategic engagement to realise the full capability of business to deliver innovative solutions.

Read more

IPCC: Emissions Cuts are about Ethics as well as Economics
The new report from the Intergovernmental Panel on Climate Change shows that global greenhouse gas emissions have grown faster than ever over the last decade.

Taking action to achieve the world's goal of limiting global warming to 2°C will mean making dramatic cuts in emissions.

Read more


Scenario Planning
Business leaders and policymakers across all sectors and countries alike face challenges in making the right decisions to prepare their organisations for an ever changing future.

This overwhelming challenge, says Oxford University's Professor Rafael Ramirez, can be aided by scenario planning - an essential tool to help organisations flourish in the face of an increasingly unpredictable world.

Read more


Murray Darling Basin Authority Chair Launches Water Stewardship Standard in Australia
The Hon. Craig Knowles, Murray Darling Basin Authority Char, launched the launched the new International Water Stewardship Standard in Adelaide last month on behalf of Water Stewardship Australia and the Water Industry Alliance. The launch event was preceded by a workshop on the standard with one of its authors, Professor John Langford, as well as WSA Secretary, Michael Spencer, and Julia Seddon from Inghams Enterprises.

Read more

Hepburn Shire Council - Bio-Energy Feasibility Study
Hepburn Shire Council has carried out a feasibility study to determine the use of renewable bio-energy within the Hepburn Shire to reduce greenhouse gas emissions and review the economic viability of such an approach.

The study found that about 1,000 tonnes pa of greenhouse gas emissions could be avoided by council and larger energy users within Hepburn Shire and that there was a good match of available bio-energy feedstock available within the Hepburn Shire compared to the energy usage by larger organisations within the Shire.

Read more
Membership
ICLEI World Secretariat based in Bonn provides a range of programs for towns and cities to participate that add value to their sustainability and climate action policies and practices.

Read more

The Oceania Secretariat provides advocacy, networking, information sharing and targeted projects that enhance the work of Members and informs the broader Local Government sector.


Host City, ICLEI Oceania Secretariat
Join the ICLEI Oceania LinkedIn Group

LinkedIn is a social networking website for people in professional occupations and allows members to strengthen and extend their existing network of trusted contacts.

It's a great way to share stories and invite discussion on sustainability practices and approaches that are working in your Council is via the ICLEI Oceania LinkedIn group.

Join the ICLEI LinkedIn group


ICLEI Oceania Regional Executive Committee–RexCom
Chair - Stephen Yarwood, Lord Mayor, City of Adelaide, South Australia
Cathy Oke, Councillor, City of Melbourne, Victoria
Mayor Paul Pisasale, City of Ipswich, Queensland
Paddi Creevey, Former Mayor, City of Mandurah, Western Australia
Wayne Walker, Councillor, City of Auckland, New Zealand
Troy Pickard, Mayor, City of Joondalup, Western Australia - Global Executive Committee Member (Biodiversity Portfolio)
Member - Global Biodiversity Portfolio & Cr Cathy Oke, Global Water and Sanitation Portfolio
Host City, Water Campaign Australia