Peggy Bleecker
3/30/1955 – 11/11/2017
Peggy Bleecker worked in the co-op sector for close to 30 years. She started out at Oak Street Housing Co-op as a deficiency clerk. She worked at Riverdale Co-op as a maintenance worker. She worked at Ernescliffe Co-op as the Manager. She served as a director and president of the Board of CoAction Staff Association. Most recently she volunteered at CHFT as a non-resident director at Secord Avenue Co-op and 15 Thorncliffe Park Co-op.
Peggy was admired and loved by everyone who worked with her. Her dedication, kindness and loyalty to the co-op sector made her wonderful to be around.
According to her on-line Obituary:
Peggy Bleecker passed away peacefully at home late in the evening of November 11, 2017. She remained the woman we love right to the end – kind, loving, strong, irreverent. She was courageous in the face of cancer, accepting with grace, the inevitable, and living every moment of every day. She died as she wished, at home in the bed she shared for 30 years with her partner Stacey Michener, in the home she created for her children, family and friends. Her family – those born and those chosen – friends and colleagues will miss her love, her loyalty, her compassion, her intelligence and thoughtfulness. Peggy was a force to be reckoned with and we loved her deeply."
Peggy has requested that everyone write a letter to their MP and/or MPP demanding access to decent, affordable housing for low income and homeless people. Because that's the kind of person she was.
Memories of Peggy
Tom Clement,
CHFT Executive
I knew Peggy since the 1980's when she worked at Oak Street Housing Co-op. Peggy played so many roles in the co-op housing sector. Over time, our paths would cross at different co-ops. Peggy always brought patience and understanding in assisting co-op members. She was a professional who was always approachable. We often spoke about being a parent and I learned so much from her. She was a proud parent who was always there for her kids and network of friends.
Mel Cameron,
Relationship Manager, The Agency for Co-operative Housing
I first met Peggy in 2011when I began managing Fieldstone Co-op. Peggy encouraged me to join CoAction staff association, and we became fast friends. It was later when we had the opportunity to volunteer together as non-resident directors, that I truly saw the depth of her commitment to the co-op housing sector. The wealth of knowledge she shared with me, particularly her expertise managing capital projects and her talent for solving difficult community problems, left a permanent mark. She was my mentor and I believe everyone who worked with her benefited from her knowledge and passion. I will forever be grateful for the time that we worked together, helping to keep co-ops in the hands of their members and supporting the efforts of the sector to provide safe, secure and well maintained homes. This is the work Peggy was most passionate about. I will deeply miss the time that we spent together.
CHFT General members' meeting and Co-op Housing Awards Night
The CHFT General members' meeting and Co-op Housing Awards Night took place on Wednesday, October 25, 2017 at Oakham House on the Ryerson University campus.

You will find a list of the garden award winners, Best Newsletter and Website award winners on our website
please click here
to see it. Included below are brief profiles of the winners of the following awards
Achievement of the Year

Brian Burke Community Builder,

Living in Diversity and the Diane Frankling Youth Award, and

the Honorary Lifetime Board member.
Achievement of the Year - Bain Co-operative Apartments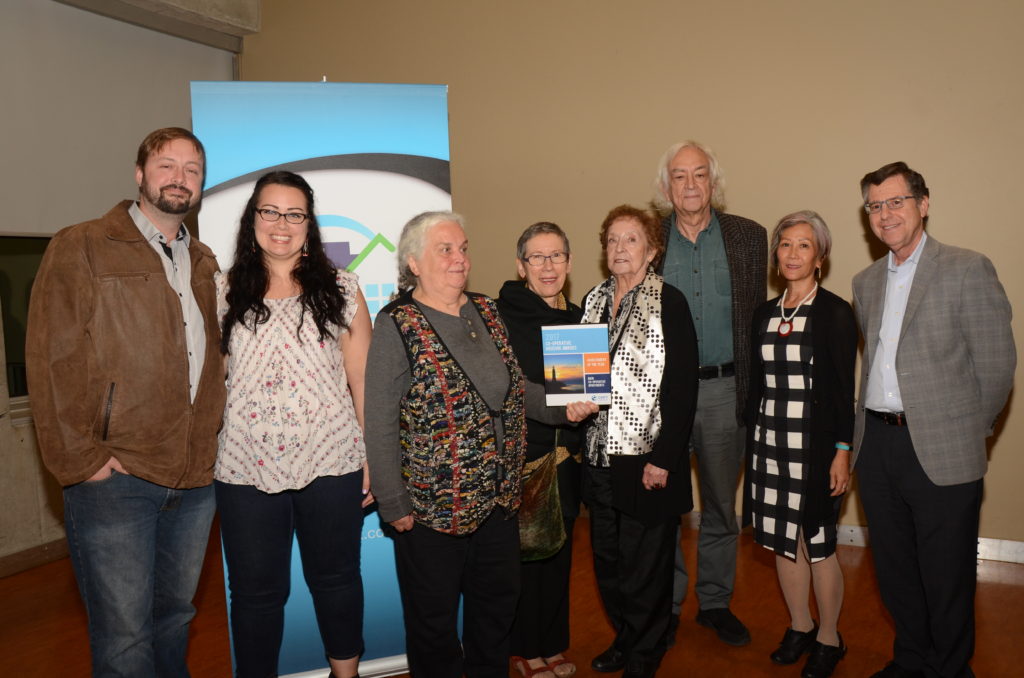 Brian Burke Community Builder – Allison Chase, Ramer's Wood Co-operative
Allison Chase is a member of Ramer's Wood Co-operative in Markham. Allison has volunteered tirelessly for her own co-op. She has been on CHFT's Board and served as President. She is on the board of two land trusts and for the Naismith Co-op. She has also served as an outside director for several co-ops. Last June, Allison was re-elected to CHF Canada's Ontario Council. To all of her co-op volunteer work she brings her integrity, steadiness, her ready laugh and her humour.
Living in Diversity and Diane Frankling Youth Awards Diane Frankling Co-operative Homes
Diane Frankling Co-op's database was out of date. The co-op needed a new one. They decided to use available grant money to hire students. They found five students who worked under the direction of the co-op's IT administrator. The new database had to support both the administrative and maintenance function of the co-op, make the day to day business operations smoother and track work done in an efficient and reportable way.

Students were hired in early 2016. After an orientation period the students carried out a series of meetings with board and staff to determine the design. Staff was interviewed about work duties and tasks they would need the database to do.

A database that is simple, welcoming and friendly

Then the students went to work. They designed a database program in a field of which they had no prior knowledge. They learned quickly. Before the database went live in August 2016 a survey was distributed to members to gather current information – contact and emergency numbers, email addresses, pet information, spoken languages, etc. The result – a database that is simple, welcoming and friendly.

The co-op started with the basics and is now expanding to include member interest and volunteer activities. It helps the co-op to expand their level of service to their community by tracking and monitoring key programs, event and festivals. The data helps them determine the size of location needed and the most effective ways to advertise target audiences, the number of servers needed and food and beverage amounts for big events like their PRIDE celebrations and the 25th anniversary party. These big events were so successful this year because the database helped to reach the broadest community segment possible –LGBTQ2, seniors, youth and children.

Reached out to community partners

Board and staff found funders who would enable them to hire qualified students to design the in-house database. They reached out to their community partners – Anishnawbe Health Toronto Miziwebiik, Cabbagetown Community Centre, Wellesley Community Centre among others to advertise specifically to students within the underserved communities of St. Jamestown, Regent Park and The Esplanade.

They successfully applied for and received grant money from the following – Industry Canada Youth Internship Program (Formerly Community Access Program), Employment and Social Development Canada – Canada Summer Jobs program, Youth Employment Services and West Neighbourhood House.

Speaks volumes for what strong, diverse and creative housing co-ops can do

The co-op is proud that their database has been built in house by students and with input from the very people who will be using it. The co-op hopes to expand the program to approach other interested housing providers as the versatility of the database allows it to be applicable to other housing providers. Housing databases from private sector businesses can cost thousands of dollars. This speaks volumes for what strong, diverse and creative housing co-op communities can achieve with work, research and commitment.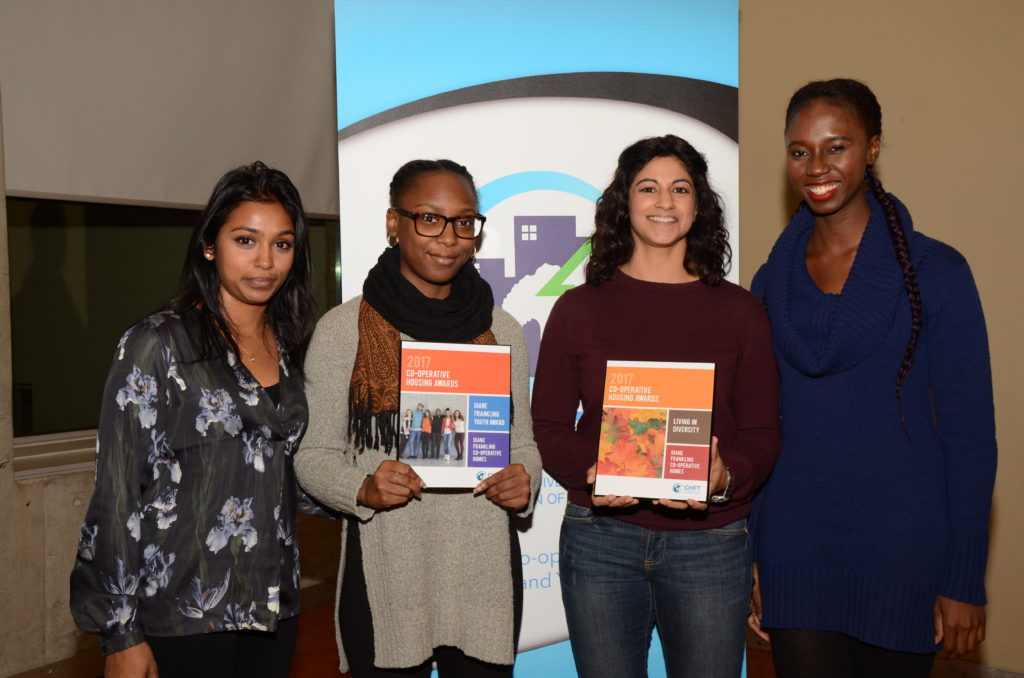 Honorary Lifetime Board member – Bob Wiseman
Bob Wiseman retired from the CHFT Board in 2016. He has served on the Board twice. His first time was in the 90's. He was CHFT's President from 1995-1996. He was appointed by CoAction a second time and served for four more years. While he was on the Board Bob played a key role in CHFT's first five year plan.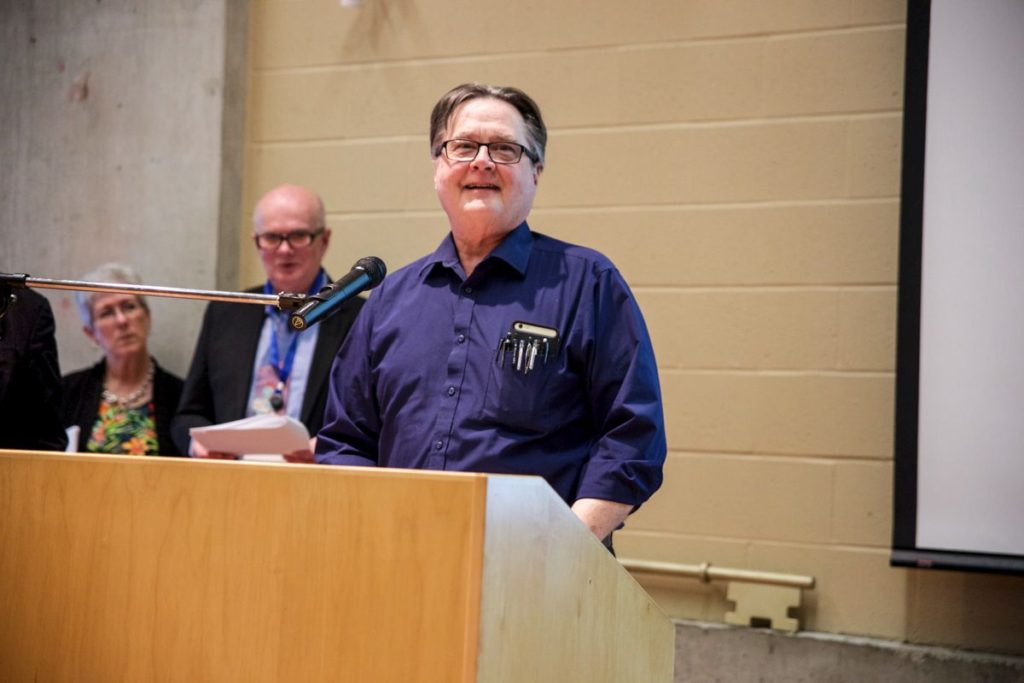 The Bain Honour Canoe recognizes the work
of the Truth and Reconciliation Commission
On Sunday, June 4, 2017 the Bain Co-op in Toronto installed an honour canoe on their property in recognition of the work of the Truth and Reconciliation Commission on the Residential School System.

During a Dedication Ceremony led by long-time member Wisdom Keeper Pauline Shirt, the canoe was filled with native healing plants and painted by the community under the direction of Indigenous Illustrator, Les Harper. It is a community gesture meant to demonstrate the Bain community's commitment to the long-term process of healing and reconciliation between First Nations and non-indigenous Canadians.

Before the June Dedication Ceremony there was a series of four monthly public education gatherings in the Bain Co-op community centre. These education gatherings focused on the supressed history of colonial abuse experienced by Indigenous peoples throughout Turtle Island (North America) since the arrival of the European empires.

The Bain Honour Canoe honours the work of the Truth and Reconciliation Commission. The commission documents the experience of over 150 thousand indigenous children of this land who were forced by the Canadian state into the residential school system operated by various Christian denominations, between the 1830's and the 1990's. Many children died as a result or were deeply traumatized by the experience.
The Bain Honour Canoe is to remember and honour all of those who were affected by the experience as well as their descendants.
Nicholas Gazzard set to retire as CHF Canada's Executive Director

After a long and accomplished career with CHF Canada, Nicholas Gazzard has decided to retire, effective November 27.

"It has been an honour and a privilege to serve CHF Canada over the last 18 years, 12 of them in the position of executive director," said Nicholas. "I wish CHF Canada the very best for the future as it builds on a half-century of success on behalf of Canadians."

"We thank Nicholas for his many valuable contributions over the years, not only to CHF Canada but to the broader international co-operative housing movement," said CHF Canada President Nicole Waldron.

"We wish Nicholas well in this new chapter of his life," said David Waters, President of CHF Canada's Ontario Council.

Karla Skoutajan has been appointed to the position of Acting Executive Director. With her decades of experience working with housings co-ops, and high standards of member service, CHF Canada's members can expect steady leadership throughout the transition.

Karla can be reached by email at
kskoutajan@chfcanada.coop
and by phone at 1-800-465-2752 ext. 241.

A recruitment and hiring process for a permanent replacement will be announced in the coming weeks.
Domanique Grant brings her PLAYHOUSE to Nuit Blanche
On the night September 30 thousands of people crowded Toronto's streets to take part in Nuit Blanche. Nuit Blanche is a city-wide celebration of contemporary art and is produced by the City of Toronto in collaboration with the Toronto's arts community.

As part of this year's event, Atkinson Co-op member and CHFT Board member Domanique Grant unveiled her interactive exhibit, PLAYHOUSE: Invisible City.

PLAYHOUSE: Invisible City explored the experiences of people living in large cities who struggle with the meaning of home and who are too often left to ask the question "where will I live". The 5,000 square foot play space brought these experiences to life by shedding light on some of the city's largest public housing neighborhoods that are often invisible.

This fully interactive, multi-sensory experience marked the upcoming release of Grant's debut album, PLAYHOUSE. The PLAYHOUSE event was endorsed by CHFT and sponsored by CHF Canada, Generation Squeeze, Homestarts Incorporated, Toronto City Planning and Astley Gilbert.

Throughout the night thousands of people made their way through the doors of Artscape Sandbox on Adelaide Street East. Artscape Sandbox is a public gallery and performance space.

Childhood memories
After entering a white door, visitors were presented with a dimly lit interior entrance decorated by a series of multicolored brown brick walls resembling the exterior of Alexandra Park/ Atkinson Co-operative.

The first room was a brightly lit bedroom with pale, worn walls. It was covered in written messages and drawings from visitors and fans. Each message responded to the question "If the walls that you rent become the walls that the world uses to define you, what is home?" The second bedroom featured black walls strewn with bright neon messages, a stunning painting of Toronto's iconic skyline and a floating ceiling with painted aspirations and dreams.

In contrast to the first room, the spaces that followed used childhood memories, themes and design inspired by the songs on Grant's debut album. The presentation was meant to reimagine the harsh realities that city life offers through the lens of an 8 year old.

Upon entering the third and largest room the space was split between a 10 foot tall dinner table which doubled as a pillow fort and a wall full of oversized bullets in dedication to communities that have lost young lives. Childlike objects hung from the ceiling. People's attention was drawn to a large elevated grid with foam blocks, panels and other shapes to play around with. Each of these items featured a statement or icon. Visitors were encouraged to rearrange the items on the grid to better represent how they see their city and neighborhood. Above this grid, brown cardboard models of public housing neighborhoods float in a white cloud filled city.

The grid was labelled with the quote "As a kid I used to play in neighborhoods that people didn't see, so my home became a playground of invisible cities that I played in as the world passed us by".

Children and adults enjoyed the playfulness
Children and adults alike loved the playfulness and interactivity of this section of the exhibit. Many vistors chose ways to group items together to make visual statements about their communities and their hopes and concerns for the future.

The atmosphere changed as gentle harp music began to fill the room. The lights dimmed slightly and calming scenes were projected onto the wall of a white stage set up to resemble a kitchen. This set the stage for Grant's musical performances. Each of Grant's performances throughout the night began with the title track from her album, PLAYHOUSE. This was followed by a monologue about gun violence, compassion and the urban communities that seem invisible to the outside world.

Grant said "As bullets collide with shooting stars, we need to ask ourselves, how do we re-learn how to love in a broken world? Now I want to ask a favour, and it may be much… Can we unlearn what this cold world is built up? Once again let ourselves become dreaming lovers, and just re-discover what this young world has to offer."

The design of PLAYHOUSE: Invisible City was produced by Grant and with the collaborative design efforts of Grant, Javid Jah, Carol-Ann Apilado, Meredith Wolting, Wesley McKenzie and Michelle Tracy.

All night thousands of people walked through the doors of Artscape Sandbox to explore PLAYHOUSE: Invisible City. It was a diverse crowd of art enthusiasts, co-op housing supporters and fans. Grant's exhibit and performances were very well received. NOW magazine voted PLAYHOUSE: Invisible City one of the top 20 exhibits to visit at this year's Nuit Blanche.



The 2018 CHFT Diversity Scholarship application is on-line

The 2018 CHFT Diversity Scholarship application is available on-line at
www.chft.coop
.
Click here
for an application.

To be eligible you need to
live in a CHFT member housing co-op

plan to attend a recognized, publicly funded Canadian post-secondary education institution – community college, university or approved apprenticeship-training program on a full time basis in the 2018/2019 academic year

have used your knowledge and understanding of diversity to make a positive contribution to your school or local community

have a demonstrated financial need.

Application deadline Wednesday, February 7, 2018 at 4:00 p.m.

For more information please contact, Angela Calderone angela@coophousing.com or 416 465-8688 extension 206.
CHFT wants to hear from you!

Please let us know if your co-op has a new CHFT delegate or if the contact information for your delegate has changed. Delegates play a key role in CHFT's outreach and organizing. We want to keep in touch.

Delegates
keep co-ops informed

tell CHFT what co-ops want, and

get involved in co-op sector issues.
Please contact Angela Calderone, angela@coophousing.com or 416 465-8688 extension 206 to update your delegate's contact information.