Greetings from Me & My House,

Musings in this e-pistle: Goals, Goals in the Kitchen? and Home, Heart Goals, Specials & More
Be sure to read to the bottom of these musings for our Specials and Announcements
Like this? Let your friends know!
Non-Conformity
Goals
"Not that I have already obtained this or am already perfect, but I press on to make it my own, because Christ Jesus has made me his own. Brothers, I do not consider that I have made it my own. But one thing I do: forgetting what lies behind and straining forward to what lies ahead, I press on toward the goal for the prize of the upward call of God in Christ Jesus." ~ Philippians 3:12-14
Many have made New Year's Resolutions this year (and every year,) with very little resolve (or will power) to complete them. They are great ideas, and are usually worked at very hard--for January at least, then fall by the wayside.

Yesterday, on a blog, it asked for comments on what your goals are for 2014. Although we all have many goals we'd like to accomplish this year, and I'm no different, my answer was a somewhat anti-goal. No stress inducing, no more work piling, no added demands. Rather I said, "To enjoy it." My life is full, and I love that what it is full of is family, creativity, and growing in my faith. Do I get all I'd like to done? No. Do I fail and fall? Often. But I rest secure knowing that "Many are the plans in the mind of a man, but it is the purpose of the Lord that will stand." (Proverbs 19:21)

So when it comes down to it, my goal is to press forward "that I may gain Christ and be found in him, not having a righteousness of my own that comes from the law, but that which comes through faith in Christ, the righteousness from God that depends on faith— that I may know him and the power of his resurrection, and may share his sufferings, becoming like him in his death, ..."
Did you celebrate Valentine's Day?
from me
Goals in the Kitchen?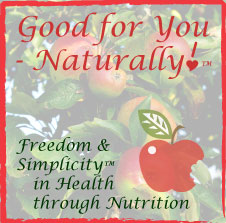 One of the most made goals for New Year's is to eat healthier--or at least lose weight (for many, they hope without changing diet or exercise habits.) I'm sure I'm not the first one to break this to you, but without lifelong diet change and exercise habits you aren't going to have lasting weight loss, or more importantly, better health. Steps toward better health will almost always lead to weight loss (for those that need it.) And small lifestyle changes, ongoing baby steps, do add up. Yummy recipes, time saving menus, and step-by-step guidance with the "whys" answered are available. (See below.) To get you started, here are a couple of great recipes (that are not in any of my other resources).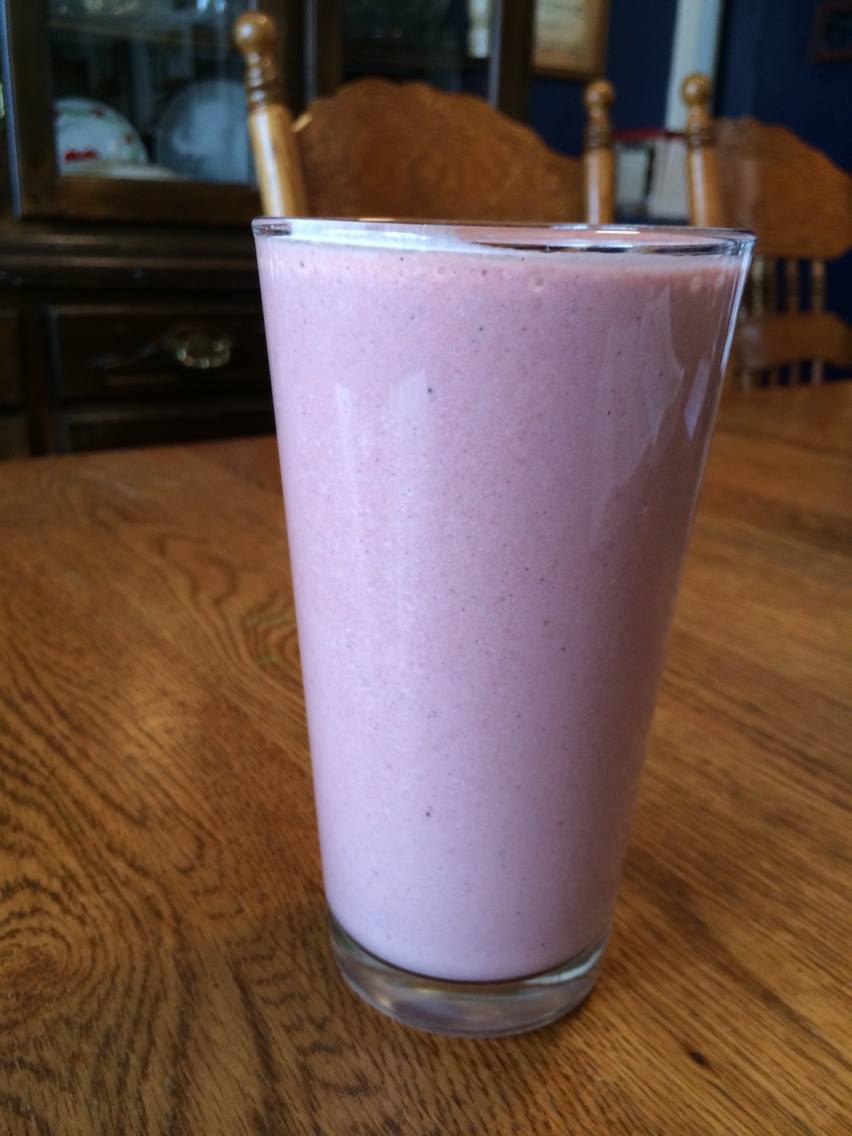 This yummy looking--and even better tasting--drink is simple to make, delicious and good for you. Go ahead, whip up this great pink, Valentine's Super Shake I came up with this past week. This strawberry-chocolatey shake is not just for Valentine's. It'll taste great anytime, and be great for you. Get the recipe on my blog here.

Speaking of recipes, I promised a couple of people our homemade "Runza" recipe in this issue of Me & My House musings, so here it is. Super simple. I've included the types of ingredients we use that make it Good for You-Naturally!
Homemade "Runzas"*
Ground Beef (grass-fed, organic)
Cabbage (organic)
Onion (organic)
Bread Dough (my Good for You-Naturally! Daily Bread - 100% whole wheat)
S&P (Real® brand salt, organic pepper)

Filling: Brown 1# (or more) ground beef with a small diced onion. Shred small head of cabbage (or half large one), add to browned burger. Pepper well and salt, as needed. Let cook till cabbage is limp - you may need to add just a bit of water, but you don't want any liquid left in it.

You can make individual runzas or pan runzas. We usually do pan runzas, just to make it easier and faster. 1 loaf of dough probably makes a 9x13. (We use 2 loaves and make a jelly roll pan plus a 9" sq. pan.) Divide bread dough in half and roll or pat out half in the bottom of a greased pan. Spread filling over the top. Roll other half of dough out, and place on top, sealing the edges by pinching together.

Let rise for a bit (15-20 min. maybe.) Bake at 350° for about 20 min, until dough cooked through. Cut into squares or rectangles and serve. We like ketchup on/in them.

To make individual runzas, divide dough into 8-12 pieces. Roll out each into a square or rectangle. Put a spoonful of filling on one side of each, keeping away from edges. Fold other side over the meat mix, and pinch edges closed. OR divide each piece in half and roll out 2 circles from each piece. Put filling on one, place other on top and pinch to seal edges.
Enjoy!
Note: Runza® is a restaurant originated here in Nebraska. The name Runza is registered to them.
And yes, my children love to make little dough designs on them.
Good for You-Naturally!™ for Life Online Course
For a step-by-step guide to making those lifestyle changes,
Register today for the Good for You-Naturally!™ for Life Online Course
. It will guide you through 7 simple steps you can take (at your own pace) that will lead to a healthy lifestyle of eating - and it includes the audios from the
Good for You-Naturally!™ Seminar
.

Good for You-Naturally! Weekly Menu & Recipes ~ Level 1
For first-steps recipes and a menu to pull them all together, get
Good for You-Naturally!™ Weekly Menu & Recipes
~ Level 1. It will give you some specific application to help you get started on that road to a lifestyle of eating for better health.
Other Goals in the Home
Perhaps you've got the eating healthy thing down. Perhaps you have other goals for in your home. Several other ideas and helps have been posted on our site recently. Maybe some will give you a spark of inspiration or jumpstart.
Perhaps one of your goals is to use more natural remedies, rather than just automatically resorting to OTCs. The Wet Sock Treatment is another natural help you can add to your arsenal in fighting colds and flu and the general crud.

Perhaps one of your goals is to do better at reaching out to others on the holidays or remembering their special days, or just to send notes of encouragement and blessing more often. I've added a lot of
card
designs, including some that I adapted from Connie Stewart's
Flash Cards
templates, which are great to have on hand to make cards in a "flash". Several
Christmas
and
Valentine's cards
are posted, to give you general card ideas also. (I figured if I started making 2-3 Christmas cards a month, I'd have Christmas cards ready to send
before
Christmas this year.) :-) Watch for my soon coming post on
One Sheet Wonder
cards, making several different cards from one sheet of paper (and the card base).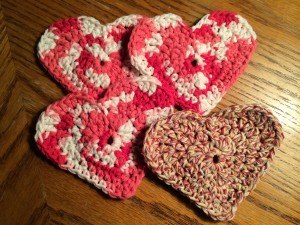 If one of your goals is to create more useful items for your home, take a look at the crochet Heart Coasters I made this month. I'm offering the pattern I designed for them for FREE!

If your goal is to make your own Natural Household Cleaners, I've got the recipes for you. And I posted the one for Dish Soap here. And here are the easy instructions to make this cute pump bottle to put it in.

Mason Jar Pump Bottle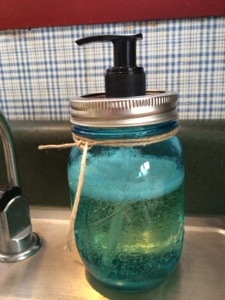 Supplies:
Mason jar complete with lid and ring
Repurposed pump - from lotion, soap, or ...
We R Memory Keepers Crop-a-dile Power Punch
Hot glue gun

Punch hole in center of lid. Punch around it until hole is large enough for center of pump to go through, but NOT the screw part of the lid. (You could probably drill this hole, but I tried that when I started making my Kid's Cups, and found it to be very difficult and left very rough edges. The Power Punch is super easy to use; goes through the metal in these lids easily and leaves a smooth edge.)

Hot glue the screw-on part of the pump to the lid.

Great for dishsoap, handsoap, lotion, shave cream, ...

L.E.D.
Heart Goals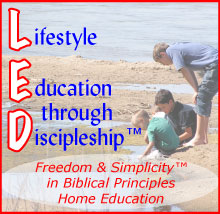 One of my biggest goals for my children is to saturate them in Scripture, that God's Word, that never returns void, would fill their hearts. Because filling my heart with much Scripture is so important in my life, I want my children to have this blessing also (and more. This old brain doesn't remember as much as it used to.)

Over the years we have memorized passages, chapters, and sometimes individual verses. We have read them repeatedly, (aloud and together, as well as quietly to ourselves,) until we no longer need to look at the page to say them. We've copied them in our own handwriting. We've reviewed them regularly, even when completely memorized, so we don't forget them. This is all important work.

But beyond just memorizing, more important than just parroting back, we have read them in context. We've discussed them. We've applied them to situations in our lives. Hiding God's Word in our hearts is not just an brain exercise in who can rattle off the most verses. Rather it is a tool for having God's wisdom readily at hand when we need it, when we are walking out our daily lives in this world. And that is my goal.
Goals
Changes?
Look for some changes in this newsletter this year. I am hoping to institute some changes that will bring your newsletters on a more regular basis, with less to read in each one. If you have any thoughts on this, please let me know. And when I make the change, let me know if you like it or prefer this "old" way.
Put me on your ipod or bedstand or eReader!
Order Lifestyle Education through Discipleship™ or Good for You - Naturally!™ seminars, workshops and ebooks.
Check out our online courses at Discipleship yoU!
Featured Recommended Resources
& Specials
Visit my new aStore!
Throughout my articles, I'm always recommending great resources, many of them available at great prices at Amazon. I've begun pulling them all together in one place in my aStore. It will be an ever-growing, never-complete catalog of recommendations. Check it out. And place all your Amazon orders by beginning with clicking on one of our Amazon links, to help support the ministry of Me & My House.

---
Equip your kitchen with Modern Maidservants™ to help you prepare nutritious meals from great whole food ingredients without spending all day in the kitchen.

NutriMill $219.99 Grind your own fresh flour from whole grains and beans. Fast. Easy. Get the freshest and most nutritious flour available.
Bosch Universal Plus with new Slicer-Shredder $459.98 includes FREE shipping. Mix, knead, blend, slice, grate. This machine does it all.
---
Me & My House is a great place to check first for excellent recommendations for the Christian family home. In addition to our own Me & My House Exclusive Resources, our catalogs contain everything from Kitchen Equipment, to nutritious Food sources, to great Books, Audios and Videos for family enjoyment and enrichment and home education.
Please order through our links to help support the ministry of Me & My House, if you are benefited by it. Thanks!