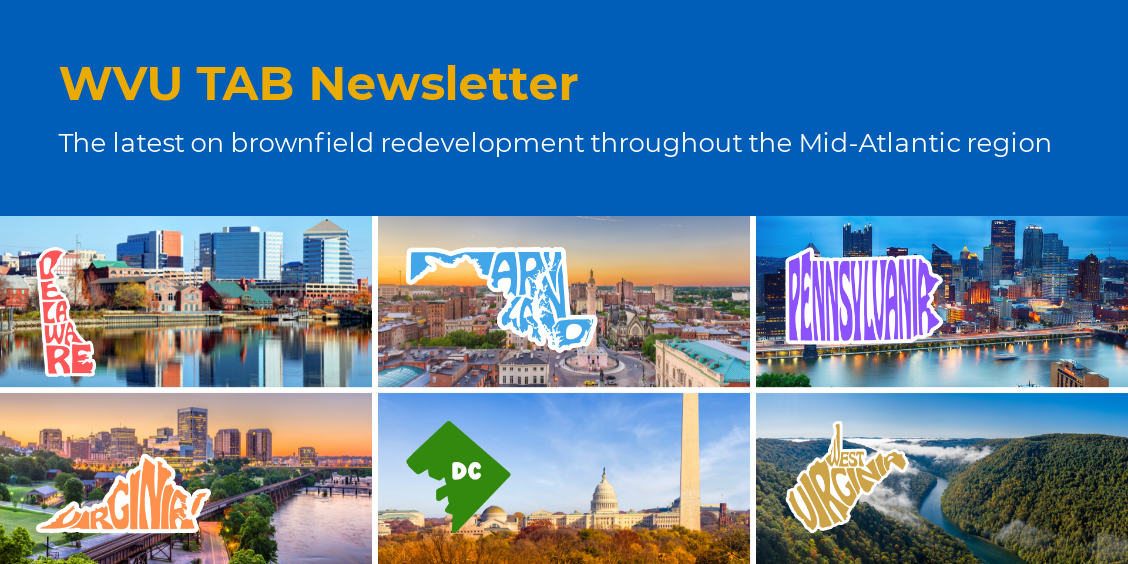 National Brownfields Conference
The 2023 National Brownfields Training Conference will occur August 8-11, 2023 in Detroit, Michigan. The call for session ideas is open and due by February 6!
Upcoming TAB Webinars
TAB Public Health Series
This two-part series addresses public health data and its links to brownfields remediation. WVU TAB discusses free tools and assistance with grants.
Part 1 : Thursday, March 23 at 12 PM (ET)

Part 2 : Thursday, April 13 at 12 PM (ET)
Missed a webinar? Watch recordings and download presentations from our events page!
FY 2023 Brownfields Training, Research, and Technical Assistance Grants

Application Deadline: February 14, 2023
For this solicitation EPA anticipates awarding five entirely new Nationwide Brownfields Technical Assistance cooperative agreements, which will focus on five different areas of technical assistance and research. Award amounts will range from $500,000 to $1 million over a 4-year or 5-year period of performance, depending on the subject area of focus. The five focus areas are:
View outreach webinar recording and more information here

Apply now: FY 2023 Guidelines for Brownfields Training, Research, and Technical Assistance Grants (EPA-I-OLEM-OBLR-22-12)
Environmental Justice Grants
The U.S. EPA announced the availability of environmental justice funding in two competitive grant categories:
Environmental Justice Government to Government (EJGTG) grants (for State, Tribal and Local governments)

Environmental Justice Collaborative Problem Solving (EJCPS) grants (for nonprofit organizations)
Details and application instructions can be found on EPA's website.
Join WVU TAB as a Brownfields Inventory Project Manager
Local Nonprofit Fights Environmental Racism
Ward 8 Woods Conservancy was started by Executive Director Nathan Harrington, a D.C. resident. The nonprofit acquires grants to aid in trash removal from public land in Ward 8, a predominantly Black community.
"Little if any effort is made to actually use this land in a way beneficial to residents," Harrington said in a recent article. "It's deliberate inaction on the part of the agencies that control that land. They don't have cars in the woods of Rock Creek Park. I don't see why we should."
The organization prides itself on healing the land and empowering people through volunteer days, advocacy efforts, and more.
ASTSWMO Meeting
The 2023 Association of State and Territorial Solid Waste Management Officials (ASTSWMO) mid-year meeting will be held from April 26-27, 2023 at the Hotel DuPont in Wilmington. More information can be found at the ASTSWMO website.
HSCA Committee Meeting
Hazardous Substance Cleanup Act (HSCA) Advisory Committee meeting will meet on Thursday, March 2, 2023 virtually at 9:00 AM. Anyone interested can reach out to Sandra Woolston.
DNREC Planner V Job Posting
The DNREC Division of Waste and Hazardous Substance Remediation Section Planner V job position posting has been extended until January 31, 2023. For questions, contact Sandra Woolston.
MD Offers Resources from Conference and Webinar Series
We are happy to report that all presentations and resources from Maryland's 2nd Statewide Brownfield Conference, "A Walk in the Park for All," are now posted online.
Additionally, our recordings and presenter slides from our June 2022 webinar series, "From Due Diligence to Redevelopment," are available.
PA Sets Drinking Water Standards on PFAS
PA's Department of Environmental Protection has established limits for two PFAS chemicals. A recent article describes the required testing and reporting PA will implement as well as a summary of a concerning study by Drexel University.
The Virginia DEQ is planning to offer training on the use of the Virginia Unified Risk Assessment Model (VURAM)
VURAM is a MS Access database model used to perform risk assessment calculations for screening and quantitative human health risk assessments. The user training is directed towards the state's Voluntary Remediation Program (VRP) and other remediation project managers in reviewing risk assessment submissions in line with EPA Risk Assessment Guidance for Superfund (RAGS). The class will review the range of sites and variations accommodated by VURAM and will cover user inputs and selections, media screening, quantitative risk calculations, and report reading. The training will also discuss the prerequisites to using VURAM and the model limitations and is anticipated to happen late winter or early spring 2023. Once the date is finalized, it will be posted on the Virginia DEQ's Event Calendar.
VA Brownfields Conference
Planning is underway for the Virginia Brownfields Conference which will be held at the Institute for Advanced Learning and Research in Danville, Virginia in June 2023. The multi-day conference will focus on redevelopment of brownfield sites throughout the Commonwealth and will highlight successes and on-going projects in Danville while focusing on "Main Street" revitalization and providing opportunities for networking, outreach, and education.
New Brownfields Coordinator
| | |
| --- | --- |
| Karen Weber, P.G. was hired as the new Brownfields Coordinator starting in November 2022. Karen joined the Virginia Department of Environmental Quality (DEQ) in April 2022 bringing 19 years of environmental and engineering consulting experience with her. Karen has a B.S. in Geoscience and a M.A. in Education from Virginia Tech and serves as Adjunct Faculty within the Geosciences Department at Virginia Tech. She is a licensed geologist and has extensive experience in soil, groundwater, and vapor monitoring as it relates to site investigations and risk assessments. | |
Karen has worked closely with stakeholders on dozens of Brownfields sites funded through state and federal grants and will continue to serve the communities of Virginia toward redevelopment and regrowth. Karen prides herself on being a Brownfields ambassador through community engagement, outreach and education, and collaboration that supports and promotes site assessment and redevelopment of Brownfield sites throughout the state. The Virginia DEQ works diligently to promote Brownfield redevelopment and implement policies through various initiatives and Karen looks forward to working as part of the Brownfields team focused on supporting communities across Virginia.
Date Announced for State Brownfields Conference
September 12-14, 2023
Mark your calendars for the annual WV Brownfields Conference this fall. It will be held in Wheeling, WV.