On January 31 this year the Hindu Tamil populations of Malaysia, South India, Singapore, and Sri Lanka celebrate Thaipusam, a day of thanksgiving and penance. Thaipusam honors Murugan, the Hindu god of war and victory, and participants go to extreme measures to show their gratitude.
The traditional way to celebrate Thaipusam is to bear a kavadi, or physical burden. In offering their kavadi to Murugan, devotees inflicting pain on themselves in order to be granted protection against misfortune.
More striking forms of kavadi involve piercing the cheeks, chest, back, or tongue with skewers and suspending oneself from hooks embedded in the flesh. Those with a low pain tolerance may bear flower- and feather-embellished wooden bars on their shoulders or carry a pot of milk on their heads.
In Kuala Lumpur, Malaysia, kavadi bearers dressed in yellow, red, and orange embark on an eight-hour, nine-mile procession. The journey ends with a climb up the 272 stairs leading to the Batu Caves, a trio of caverns dedicated to Murugan. A 140-foot, gold-painted statue of the deity greets visitors as they prepare to climb the steps. Hordes of long-tailed macaque monkeys scamper among the ascending crowd.
About 1.5 million people are expected to attend Friday's Thaipusam festivities at Batu Caves. Earlier this month the Malaysian Hindu Sangam, a national organization dedicated to addressing the needs of the country's Hindus, announced new guidelines: festival participants are no longer allowed to carry kavadi that bear football team logos or pictures of celebrities. The organization warned that anyone doing so may not be able to fulfill their religious obligations.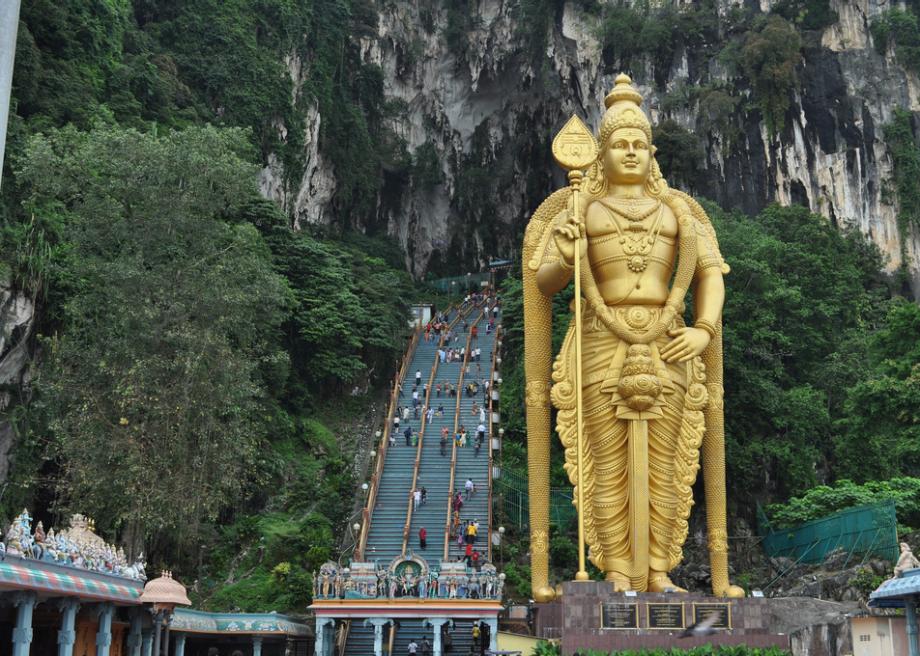 Eye-catching festivals around the world: