#177
headlines@industriall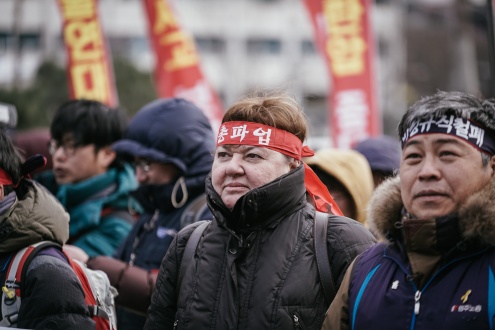 South Korea trade unionists holed up in offices

Lee Youngjoo has not left her Seoul trade union offices for several weeks. If she does, she is afraid she will be arrested and put in prison like her colleague, Korean Confederation of Trade Unions (KCTU) president, Han Sang-gyun.

Instead she eats, sleeps and lives there while her family must travel to the offices to see her, so tells IndustriALL Global Union assistant general secretary Monika Kemperle who met Youngjoo in the KCTU offices last week. Youngjoo's fellow trade unionists are also holed up in the offices.

› Read more
Global unions criticize Bangladesh Government over EU compact

Three global unions have made a critical assessment of the Government of Bangladesh saying it is failing to comply with a compact made with the European Union in the wake of the Rana Plaza disaster.

› Read more
Kyrgyzstan: victory for striking gold miners

A three-day strike by workers at the Zhamgyr gold mine in Kyrgyzstan has resulted in victory after their demands have been met.

› Read more
Joint commitment to prevent workplace sexual harassment by IndustriALL, IUF and Unilever

Sexual harassment is a universal problem, both at the workplace and outside of it. It can damage lives and careers, cause lasting psychological, social and career damage and gravely undermine the working environment. 

› Read more
Miners' union and companies want to improve industrial relations

The Mexican miners' union and more than 40 companies share the same objective: tackle the problems caused by the global economy for both workers and companies. This was on the agenda when they met on 21-23 January to discuss how to improve industrial relations.

› Read more