Recent News
Kloster Arenberg, Koblenz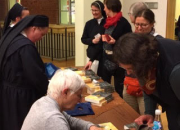 | | | | |
| --- | --- | --- | --- |
| April 13-15 | | | |
Sisters and guests of the monastery responded warmly to Hanna's reading from her book Meine Krone in der Asche. Her three aunts, Johanna, Dora and Elisabeth Schneider, made their home in Koblenz, so she mentioned them in the book reading. The next day, at the end of a smaller follow-up meeting, the head of counseling at the monastery presented us with an email from Sabine. She had been present the previous evening, and wrote of her desire to work on the laying of Stolpersteine (brass plaques laid in the sidewalk) to remember Hanna's aunts!!
The public library, Simmerath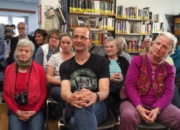 | | | | |
| --- | --- | --- | --- |
| May 4 | | | |
People in Simmerath, a small Eifel town which experienced the full trauma of the Battle of the Bulge at the end of WWII, organized a book reading for Hanna in the public library. Afterwards there were so many questions about forgiveness. George could share Jesus' teaching on "How to become the kind of person who forgives".
Chemin Neuf, Bonn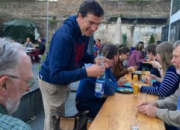 | | | | |
| --- | --- | --- | --- |
| May 8 | | | |
Chemin Neuf is an international Catholic fellowship with a calling to serve for unity among all Christians. From a prayer group in France in 1973 it has grown to some 2,000 members in 30 countries. After the Chemin Neuf leader in Bonn read Hanna's book, he asked her to speak during their Sunday evening worship service. Our relationship is rapidly deepening.