Our days
are getting longer and we are getting more daylight hours to spend outside. We had a couple of glitches with evidence of wintry weather a couple of days last week, but hope has emerged in so many ways. We return this week to summer like weather and within the next two weeks, pandemic restrictions will be lessening. Many of our members will begin receiving their second vaccinations today and the schedule will be accelerated to allow most of us to complete the process earlier than expected. There will hopefully be more time over the summer months to engage with family and friends.

Next week, on Wednesday, June 9, we invite you to join us at the
Annual Meeting
(AM) for RTOERO District 23 at 10:00 a.m. You are also invited to join us for our Executive Meeting which will begin at 10:30 a.m. (approximately). The information is below this section and the sessions will be held on Zoom. The registration information is contained in that article as are the links to AM Booklet and the necessary documents which we encourage you to read. We hope to see your there!
The next issue of STONY Bridges will be published in late July/early August by our Editor, Merv Mascarenhas. STONY Bridges provides full details for all anticipated District 23 events and the registration forms to participate. At this time, we do not know when Public Health, the Provincial Government and RTOERO will be able to give full permission to resume regular activities without restrictions. If you are interested in submitting a story, poetry, travelogue, review or photo series, please submit your entry to Maureen Capotosto to: mpcapotosto@sympatico.ca
STONY Bridges magazine's links are pasted on our District 23 main page as well as our monthly E-newsletters. That is located at: http://district23.rto-ero.org

You can also follow us on Facebook:
https://www.facebook.com/RTOERODistrict23NorthYork
You can also follow us on Twitter:
@RTO23_North York

A huge THANK YOU goes out to all of our Executive Officers and our Conveners for their leadership, guidance, support and enthusiasm in organizing virtual events and opportunities this past year. We also want to thank all of you, our District 23 members, who have continued to follow us and participate along with us, in the planned activities and sessions this "virtual" year.
On behalf of the District 23 Executive, we wish you all a wonderful summer with renewed meetings with family and friends whether you are sweltering in the city, travelling to new destinations or relaxing by one of our many lakes, bays or rivers. On July 1st, we hope you find some local celebrations, wherever you are, to celebrate Canada's Birthday.🇨🇦 We have much to be thankful for in our glorious country.
Join us for a virtual 2021

Annual Meeting
of RTOERO District 23 members!
RTOERO District 23 continues to work diligently to keep our members involved and informed. We are inviting you to a virtual Annual Meeting on June 9, 2021 at 10:00 AM via Zoom. Highlights of this meeting include the introduction of the Executive for 2021-22, recognition of members who have made significant contributions to District 23, and presentation of the new District Governance Document. There will be an opportunity for you to ask questions of the Executive.
You are also invited to remain on the call after the Annual Meeting to attend our June Executive Meeting. This is a unique opportunity to hear from our conveners and be a part of the ongoing planning for District 23 members.
CLICK HERE to register for the Annual Meeting. You will receive a personalized Zoom link upon registration.

2021 Annual Meeting – Agenda & Reports: It contains the Agenda for the meeting, a listing of the Executive and reports from all Conveners.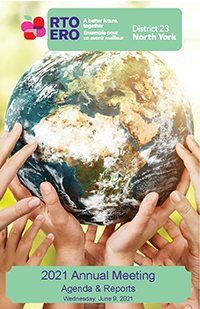 View it in a single-page layout or a double-page spread.

The new District Governance Document: it will be presented for approval at the meeting.
CLICK HERE to view the District Governance Document.
We look forward to having you join us on June 9.
Regards,
Gwen Scriven
President, District 23
e-Devices Interest Group
(ZOOM SESSIONS)
Zoom 101, Zoom Basics and Beyond
Our next scheduled meetings: on Friday, June 4, 2021 at 10:30 a.m.,
There will be some repetition (review and refresh!) as well as new topics.

e-Devices "regular" meetings -
Our next scheduled meetings:
Friday, June 11 and June 25, 2021 at 10:30am,
every alternate Friday except holidays and rare conflicts.
Contact Vern Paige:

photoguy.2019@gmail.com



Vern will mail you the information you will need to sign into the Friday morning sessions. Please include your name and your email address.

Vern is tentatively planning to continue through July and August, but may skip a session or two depending on the progress of vaccinations, COVID and family events. So, subject to possible changes with as much notice as possible, the dates will be:

Regular sessions: July 9, July 23, August 6, August 20
Basics sessions: July 16, August 13.
Final information for summer sessions will be in the July and August E-Newsletters.
HAVE-A-JAVA




(ZOOM SESSION)
Have - a -Java continues to meet VIA ZOOM. Convenor Liz Clarke welcomes any member of District 23 to Have - a Java including regulars and newly registered members.

When? Wednesday, June 16th from 9:30 to 10:30 a.m.
BYOCAT (Bring Your Own Coffee And Treat) You won't be disappointed!😋

VIA ZOOM
Please RSVP by Monday, June 14th, 2021

Contact Liz Clarke to register:

clarkemeneguzzi@gmail.com


Please include your name and your email address when you register. We will use that address to send you the link to join the Zoom meeting.
Needlework and Crafts
(ZOOM SESSION)
Thursday, June 17, 2021
This active group continues to create many unique items and contribute to several community projects. Pre-COVID, the group would create lovely crafts to prepare for events such as the Champagne Breakfast, Holiday Luncheon and the AGM meeting. This year, to keep in touch with one another, they have engaged in ZOOM sessions. They shared items they created and prepared for senior residences, mask making for school aged children and hats and blankets for neo-natal wards at local hospitals. The group is also working on new ideas for future projects. Sessions are lively and the creative juices are flowing! New members are welcome!

VIA ZOOM
Please RSVP by Tuesday, June 15, 2021

Contact Joan Bourne to register:

j

bourne@sympatico.ca

or
Margaret Schumann: schumanmp@gmail.com if you are interested in joining the group.

Please include your name and your email address when you register. We will use that address to provide you with the link needed to join the ZOOM meeting.