Frack Free Somerset Newsletter
December 2012
Seasons Greetings from Frack Free Somerset
Everyone at the campaign would like to wish people in Somerset greetings for the season. Thank you for all your time, energy, interest and donations. 2013 is going to be a challenging year for the campaign, one where our efforts will all need to be stepped up to counter applications & propaganda in the coming months ahead.

Make it your new years resolution to get involved! All energy, strengths & efforts are welcomed - there really is something that everyone can do.
Announcing the Frack Free February Month of Action
Frack Free February is a Month of Action in Somerset with public meetings, talks, stalls, workshops, actions and more all raising awareness about the threats to our communities and the bigger picture of extreme energy.
The Frack Free February Month of Action is an opportunity to:
Systematically raise awareness about fracking & extreme energy to communities at risk in Somerset - we will be distributing 50,000 leaflets across towns & villages in the PEDL licensed areas
Create a wide variety of opportunities for participation and action to anyone moved by the literature and outreach activities & the thought of fracking taking place locally - see the list of actions below
To generate momentum for the campaign in 2013 and significantly increase planning application response capacity across the county e.g. starting more local groups, increasing the number of newsletter sign ups and so forth, so that when applications are submitted, we can best respond and support each other across the county.
WAYS TO GET INVOLVED
Organise a public meeting or event in your town or village - email us & we can support with any aspect, whether that's graphic design, providing speakers or helping with the costs of hall hire
Help us doordrop over 50,000 leaflets
Got skills to share? Offer to lead, or participate in a workshop
Get postering! Help us get posters up in every local shop in Somerset
Ask your local groups to sign up to the coalition, we have a target of at least 50 new groups joining the coalition in February
Help us make this happen - Donate!
For any of the above, please email info@frackfreesomerset.org
WHAT IS TAKING PLACE?
We are still in the process of confirming dates & times with various venues, speakers & organisers however plans include:
Public meetings in these towns as a priority (as they are areas at risk that haven't already had a meeting take place):
Midsomer Norton, Westfield, Radstock, Paulton, Farmborough, Pensford, Shepton Mallet, Southway, Evercreech, Castle Cary, Wookey, Blagdon, Chew Magna
If you live in one of these areas & would like to help organise these events, please get in touch as soon as possible. Please note even if you're not in these areas, get in touch as we need to raise awareness across Somerset & any public meeting in any area is important.
Workshops including: Starting and organising a local group skill-share, Extreme energy & the bigger picture, direct action training, Speaker training and more.
Stalls: we will be heading out to the highstreet every Saturday in a different town in Somerset
Street theatre: the famous rig will be back and coming to a high street near you
Filming: we are working with a local film maker to produce a film about the situation in Somerset, its progress will be shown at meetings during February
Door dropping leaflets: We will need volunteers who can do some door to door leafleting throughout February. Even if you can only make a morning, please email us to help out.
Talks wherever we are invited, would you like a talk about fracking at your college, university, workplace, local group? Get in touch.
DONATE TO MAKE THIS HAPPEN
We have applied for a grant towards cost of this month of action, however we still need to make it happen if not successful as a matter of urgency for the land & communities of Somerset. If you can donate any amount, large or small, towards the cost of the activities above, especially the printing costs which are fundamental to awareness raising, we will be very grateful. Click here to donate online.
Deadline extended again for UK Methane's plans for CBM test drill
Still chance to make your voice heard
The deadline for comments has now been extended until the 3rd January 2013. Over 764 objection comments have been submitted so far, let's make it 1000! Be aware you can also email your comments to:
development_control@bathnes.gov.uk
Remember to include your full name and address and the application reference number as the subject line: 12/04304/FUL. Also include that you are OBJECTING!
Submit an Objection:
*
Add your comments online at:
http://www.bathnes.gov.uk/services/planning-and-building-control/view-and-comment-planning-applications
* The planning reference is
12/04304/FUL
*
P
lease include your name and address
or your objection may not be counted. If using a template, please
adapt it using your own words
as duplicate letters will not carry the same weight.
*Find a full list of points of objection here:
http://www.frackfreesomerset.org/what-you-can-do/keynsham-action-alert/planningobjections/
** Even if you only have a minute, submit a few words that you are concerned through the online form**
The situation:
UK Methane have applied for planning permission for a test drill for Coal Bed Methane in the Hicks Gate area of Keynsham.
Coal Bed Methane
is methane (natural gas) trapped in coal seams underground. To extract the gas, after drilling into the seam, it is necessary to pump large amounts of water out of the coal seam to lower the pressure. It often also necessary to frack (or 'stimulate') the seam to extract the gas. There is a catalogue of negative environmental and social effects associated with this method.
Click here to see some of the main causes of concern.
Why preventing this application is so important:
At the moment these small companies need to put in planning applications to the County Council for their tests sites. Their aim is to prove that the whole process in viable, with the hope of being able to sell to a much larger corporation - who will have the money to undertake full scale development. Then the large corporation will put in one application to the Major Infrastructure Planning Unit - part of central government for a whole area and at that point there is little chance of any local input at all.
So fighting these test sites NOW is very important, while there is scope for local opposition to count for something.

The Big Rig Revolt in Bath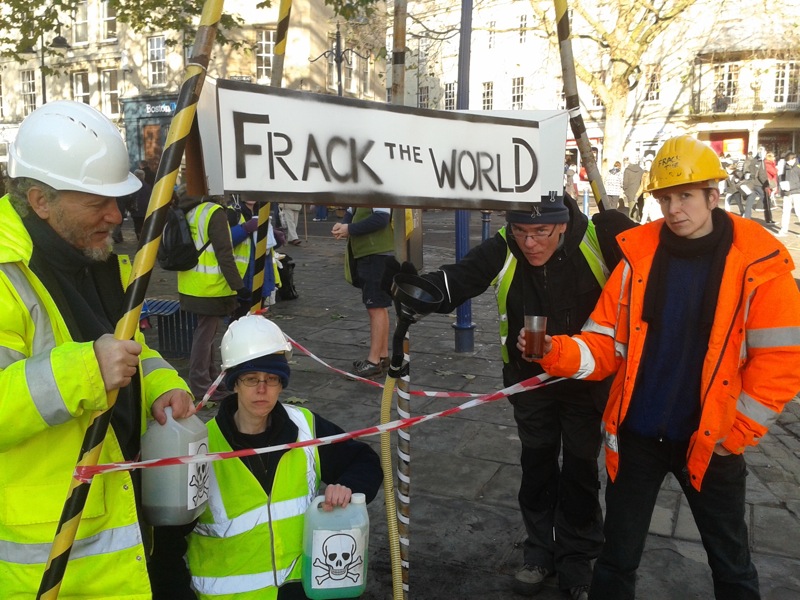 On Saturday 1st December, Frack Free Somerset joined ordinary people from all over the country to show their resistance to the threat of extreme energy. 20 of us from Frack-Free Somerset met at Kingsmead Square, built a mini-fracking rig and performed street theatre, made some noise and talked to people to raise awareness of the this mad dash for gas.
Over 500 leaflets were distributed to curious Christmas shoppers and the general reaction from the public was of anger and disgust that the government could take such risks with our water and safety, while not investing in safer, renewable sources of energy.
Researcher needed
The campaign are seeking someone who has the skills and time to identify private and public landowners in the PEDL licensed areas. We can support with costs incurred. Please email
info@frackfreesomerset.org
for more information if you are interested.
Stuck for a Christmas Present? Donate to Frack Free Somerset
Want to give a meaningful present to a friend you know cares about the environment and their community? Donate to Frack Free Somerset and we will email you an e-card or send an email directly to your friend or family member that you have donated in their name.
Every penny goes towards grassroots outreach in Somerset raising awareness of the environmental harm of fracking and extreme energy.
Click here to donate online.